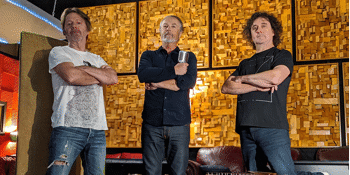 Code One presents
Steve Kilbey (The Church) with Gareth Koch & Roger Mason (Icehouse) - LATE SHOW
Brass Monkey (Cronulla, NSW)
Friday, 25 September 2020 8:30 pm
We are abiding by all COVID 19 Restrictions and Protocols so anyone displaying signs of illness will not be permitted entry.

All Shows Are 18+ - Doors Open 8.30pm
Please email the venue on brassmonkeycronulla@gmail.com if you have any dietary requirements
...
THE WINGED HEELS feature: Aria Winners and purveyors of Musical Excellence Steve Kilbey (The Church) & Gareth Koch (Saffire) need little introduction and are joined onstage by music legends Barton Price(The Models) & Roger Mason (Icehouse) to render their unique musical creation.
It is an entirely new and esoteric body of work, evoking a living connection to the past which resonates with us all.
Songs from Another Life (Music of Antiquity) is the second collaborative album by Steve Kilbey and Gareth Koch. It follows their successful debut Chryse Planitia earlier this year.
The live performance includes pieces from both albums, reconstructed to suit the live format, and will be presented as a 90 minute set including encore. The chemistry of these four musicians is undeniable as they harness their diverse musical influences. Like the albums the live show will resonate with lovers of fine music and broad genres.
In Steve's words on the liner notes to the LP he says:
"Working with language scholars and local musicians, we have attempted to bring these ancient songs alive. They have rendered the songs in a manner that is comprehensible to the modern listener. The songs and recordings represent the thoughts and sounds of a distant antiquity. Here then is the past – and now the past is here."
Chryse Planitia and Songs From Another Life are OUT NOW via FOGHORN/MGM.
Video - https://themusic.com.au/videos/video-premiere-steve-kilbey-gareth-koch-journey-to-byzantium/4-X_9_b5-Ps/19-06-20/
DSP's - https://ffm.to/songsfromanotherlife
Social - https://www.facebook.com/Kilbey.TheTimeBeing/