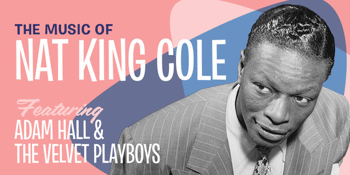 The Music of Nat King Cole feat Adam Hall and the Velvet Playboys
Lyric's Underground (Maylands, WA)
Sunday, 9 May 2021 6:00 pm
"I'm not playing for other musicians, we're playing for the guy who works all day and wants to spend a buck at night. We'll keep him happy" Nat King Cole

Adam Hall and the Velvet Playboys have always played "pretty music for the people" and now we proudly present the Music of Nat King Cole. One of the greatest performers to have ever graced the stage, this will be a magic evening spliced with images and the feeling of the Swing Era.

Featuring all the hit songs such as "When I Fall in Love", "Unforgettable", "The Way You Look Tonight" & "LOVE", this is one not to be missed.

"I have never been able to sit still during an Adam Hall and the Velvet Playboys show... It had me smiling, bopping, swaying and singing along" ★★★★ West Australian

​​​​​​​Minors are welcome to this show however must be accompanied by their parent or legal guardian at all times.