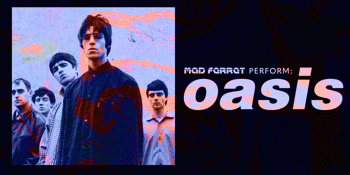 Oasis performed by Mad Ferret
The Breakwater (Hillarys Boat Harbour, WA)
Saturday, 14 March 2020 7:30 pm
Oasis set the standard for rock 'n' roll antics in the 90s, while their classic Britpop anthems such as 'Live Forever', 'Wonderwall' and 'Don't Look Back In Anger' entertained audiences around the globe. Now Perth's leading Oasis tribute act Mad Ferret hit The Breakwater, to bring the stadium rock swagger of Oasis to life!

Two high-energy sets span the 15-year career of Oasis, with famous hits like 'Cigarettes & Alcohol', 'Champagne Supernova' and 'Morning Glory', plus a host of quality B-sides and album tracks.

From the sheer raw power of their debut album 'Definitely Maybe' to the band's swansong 'Dig Out Your Soul', these five musicians bring you a stage show worthy of the Manchester quintet themselves.