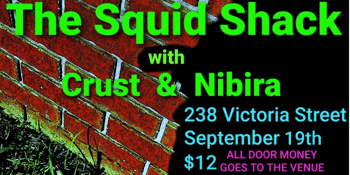 The Last Chance
Squid Shack at The Last Chance w/ Crust + Nibira
The Last Chance Rock & Roll Bar (North Melbourne, VIC)
Sunday, 7 November 2021 7:30 pm
Hi, we're The Squid Shack.
Come support a great venue by purchasing a ticket to our shindig. All door money goes to Last Chance and these three handsome fellas will bust their buns to entertain any audience.
With the support of Crust and Nibira, it's sure to be a night that'll make you walk away with a story or two.