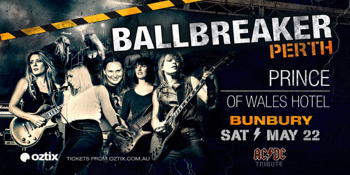 Ballbreaker
The Prince Of Wales Hotel (Bunbury, WA)
Saturday, 22 May 2021 8:00 PM
Hailing from Bon Scott's old stomping ground, Perth, Western Australia, a supergroup of female musicians from some of Perth's best original bands have united in the name of Rock n Roll - AC/DC style.

Scottish-born vocalist Kathryn Lamb, dual lead guitarists Krissy Sanfead and Selina Jayne Paul, bassist Jade Champion and drummer Lauren Reece make up this all female fun filled AC/DC salute band.

Performing a great selection of Bon Scott's finest, such as Can I Sit Next To You Girl, Jailbreak, If You Want Blood, TNT and the cheeky She's Got Balls, Ballbreaker will shock you with an electrifying and ball-breaking 2 hour stage performance that is not to be missed.