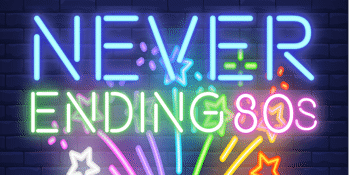 CODE ONE presents..
Never Ending 80s – Girls Night Out!! – EARLY SHOW
Brass Monkey (Cronulla, NSW)
Friday, 11 December 2020 5:30 PM
We are abiding by all COVID 19 Restrictions and Protocols so anyone displaying signs of illness will not be permitted entry.

All Shows Are 18+ - Doors Open 5.30pm and venue will close at 8.15pm sharp
Venue contact - brassmonkeycronulla@gmail.com
...
The Never Ending 80s return to where it all began THE BRASS MONKEY for 2 very intimate shows with a special guest: Early Show (Doors 5.30pm) – Limited Capacity so get in early and book your ticket..
Never Ending 80s – Girls Night Out!! PARTY LIKE IT'S 1989 – There's no other decade like the 80's. It was THE era of BIG HAIR, BIG HITS and BIG FUN. NEVER ENDING 80's take you back to Party Like Its 1989 with a night packed full of the biggest hits by the biggest artists ever. The Decade that was the 80s was awesome and with that awesome Decade came with THE BEST soundtrack.
Now, The Never Ending 80s band are bringing you that soundtrack to the stage As they carve their way through the music of Prince, Madonna, Cyndi Lauper, INXS, Bon Jovi, Michael Jackson, Whitney Houston, as well as so many other giants, you'll be dancing and singing along to all of your 80s tunes LIKE TOTALLY.