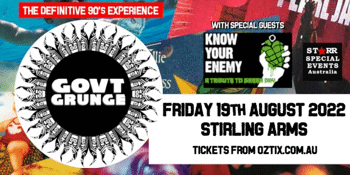 Starr Special Events Presents
GOVERNMENT GRUNGE
With Know Your Enemy (Green Day Tribute)
The Stirling Arms Hotel (Guildford, WA)
Friday, 19 August 2022 7:30 pm
If you like your music dirty and loud, you're in for a treat. The people's musicians, Government Grunge, are bringing it to The Stirling Arms Hotel for a night of pure 90s nostalgia.
Come as you are, or dust off your finest flannel, lace up your doc martens and set your VHS to record 'Rage' – choice is yours, don't be late...
Relive the sludgy sounds of Seattle with seminal classics from Pearl Jam, Nirvana, Stone Temple Pilots, Smashing Pumpkins, Alice in Chains and more.
Supported by Perth's premier Greenday Tribute band – 'Know Your Enemy' and DJ's Penelope & Dark Web.
Don't miss out on this chance to mosh like it's 1993! Tickets are limited.
ABOUT THE BAND
"Teenage angst has paid off well, now we're bored and old..."
After only a handful of shows, Government Grunge has risen to prominence on the Perth pub scene with their raw and authentic tribute to the masters of the 90s. Emerging from a conversation about modern computer-generated pop vs grunge bands from the 90s, a close (flannel) knit group of seasoned musician friends
decided it was time to blow out the cobwebs and play a few tunes they actually love. Government Grunge was born…