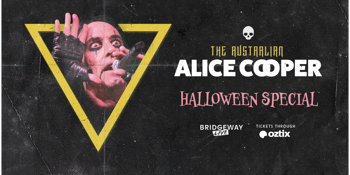 Bridgeway Live
The Australian Alice Cooper Show - Halloween Special
The Bridgeway Hotel (Pooraka, SA)
Saturday, 30 October 2021 7:00 PM
"Receiving rave reviews from pundits all over the country, this acclaimed homage to the rock legend Alice Cooper will leave your jaw on the floor".
​​​​​​​
From 1971-1976 Alice released some of the most memorable and well-crafted rock songs in history. This is a must see tribute show.
An 8 piece band brings to life the macabre genius of Alice Cooper in the '70s in a rock concert featuring a host of brilliant musicians and songs as well as dancers, monsters, snakes & swords, straitjackets and Guillotines, horror & hilarious spirit of entertainment that Alice embodied into every show.

"It's a 2½ hour joyride inside the mind of a psychopath, with a killer soundtrack".