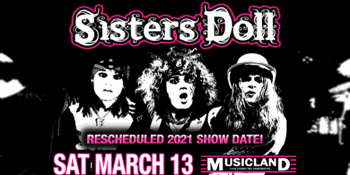 Sisters Doll
SISTERS DOLL - THE DOLLS ARE BACK
Musicland, Fawkner Music Complex (Fawkner , VIC)
Saturday, 13 March 2021 7:00 pm
SISTERS DOLL - THE DOLLS ARE BACK

SEE YOU IN 2021

No one expected 2020 to end up the way it did. Band's have been locked away, venues have been closed but Covid-19 still didn't kill Rock N Roll.

After being in lockdown for the whole of 2020, Sisters Doll are ready to hit the stage in 2021 for one big headline show in Melbourne Australia. The Doll Army better get ready to enter the Dollhouse to witness one of the biggest shows in 2021.

Hosting the event is the great Melbourne venue Musicland Melbourne and it will be turned into the Dollhouse for one night of explosive Rock N Roll like you have never seen before.

Expect nothing less from Sisters Doll as they bring you a show that will leave you wanting more.

Tickets available through Oztix & www.sistersdollband.com

TICKETING OPTIONS:

VIP TICKETS - $40.00 + Booking Fee:

- Ticket for the show.
- Early Admission at 7.00PM (1 Hour before General Admission)
- Signed one of a kind Sisters Doll A3 Picture.
- 15 Minute Acoustic Set
- Photo Session with Sisters Doll before the show.
- Exclusive VIP Lanyard
- 1 Set of 3 exclusive Guitar Picks

PRE-SALE TICKETS - $20.00 + Booking Fee:

- GA Ticket for the show.
- Admission at 8.00PM

DOOR ENTRY (on the night) - $25.00

- GA Ticket for the show.
- Admission at 8.00PM

SHOW TIMES:

VIP DOORS: 7.00PM
GENERAL ADMISSION: 8.00PM
SPECIAL GUESTS: 8.30PM - 9.15PM
SISTERS DOLL: 9.30PM - MIDNIGHT.