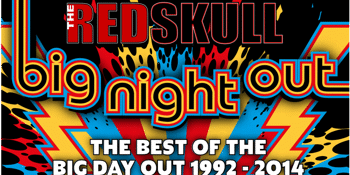 The Red Skull
The Red Skull's - Big Night Out Tribute
Coolangatta Hotel (Coolangatta, Gold Coast, QLD)
Friday, 24 May 2019 8:00 pm
THE BEST OF THE BIG DAY OUT 1992 - 2014
Ah, the Big Day Out! From its very first outing in Sydney in 1992 through to Pearl Jam's last chords ringing out across Joondalup in 2014, the BDO was a rite of passage for Aussie music lovers for over 20 years. Now, afterplaying to packed houses across the country,Adelaide rockers THE RED SKULL are bringing the best of the BDO live to Queensland for two huge shows - the Coolangatta Hotel on Friday 24 May 2019 and the Racehorse in Ipswich on Saturday 25 May 2019.
THE RED SKULL'S BIG NIGHT OUT is not your average covers show – it's an authentic recreation of the sights, sounds and vibes from Australia's most loved music festival. We've listened to BDO veterans across the country and squeezed more classic anthems into the show than humanly possible. All the big guns are represented – Nirvana, Pearl Jam, Soundgarden, The Offspring, Tool, Metallica and The Killers – but there's also a huge selection of Aussie music legends. Think the Gurge, Jebs, Spiderbait and The Living End just to name a few.
In order to provide the complete Big Day Out experience, THE RED SKULL will be joined by guest DJs at each show who are 100% dedicated to bringing back The Boiler Room. That means more Prodigy, Chemical Brothers, Basement Jaxx and New Order than you can shake a stick at, so get ready to dance your arses off!
THE RED SKULL'S BIG NIGHT OUTis the must see show of 2019, so even if you don't go to concerts, baby, 'cos the music's always up too loud, get your old BDO crew together, throw on your Vans, 501s and that dope Beastie tee and get ready for an epic BIG NIGHT OUT.
Here's what the punters are saying about THE RED SKULL'S BIG NIGHT OUT:
"It was such a great night! I tried not to have any expectations, but you guys gave me one of the best nights out I've had in Perth since moving here ten years ago. Thank you so much, it was brilliant."– Mars, Perth
"What a show! Exceeded all expectations. Please return to Perth ASAP. Loved it!"– Deli, Perth
"Hey guys, what an epic night at Badlands! You absolutely nailed it. Big thanks from my wife and I. Can you send me the entire night's play list? It was so good! Thanks and best of luck with the rest of the tour."– Jaz, Perth
"Last night was flipping mental. Cheers @theredskullofficial for the heavy BDO nostalgia and rad party times!"– Ash (Badlands Bar), Perth
"It took me this long to recover from such a foot-stomping, head-banging, beer drinking singalong of a night. Felt like I was young enough to get away with all kinds of crimes! Thank you guys for a wicked Big Night Out and a massive "Ooh! Ooh!" to Maverick for getting the dance floor moving."– Victoria, Adelaide
"Awesome show, boys. You rocked the sh*t outta The Gov!"– Ben, Adelaide
"The songs were chosen with care featuring plenty of Australian festival favourites which had the crowd singing along and getting a mosh pit going down the front. The band was tight and polished, with thumping bass lines being served up by Tony Coppola, sublime guitar riffs coming from the magic hands of Jason Higgs, underscored by Mark Montgomery's explosive drumming. The crowd was grinning from ear to ear as they jumped, sang, danced and even got some crowd surfing going. As the band left the stage, I felt slightly breathless, happy and buoyant. Hanging around the merch desk, the punters showed their appreciation by snapping up T-shirts and enthusiastically congratulating the band on their performance. If you ever fancy a "Big Night Out", I would heartily recommend The Red Skull."– Jeremy @ hifiwaythepopchronicles.com