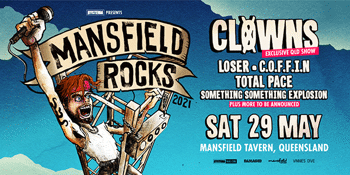 Hysteria presents
Mansfield Rocks 2021
Featuring: CLOWNS, Loser, C.O.F.F.I.N, Total Pace and more!
Mansfield Entertainment Centre (Mansfield, QLD)
Saturday, 29 May 2021 4:00 pm
CLOWNS
LOSER
C.O.F.F.I.N
Total Pace
Something Something Explosion
More To Be Announced

Saturday 29th May, 2021 at Mansfield Tavern
Hysteria, Damaged & VINNIES Dive is proud to present MANSFIELD ROCKS, a massive celebration of rock 'n' roll riffs, moshing, and beer after going without for so long!
Headlined by world-conquering punk rockers CLOWNS, the all night party will take place at Mansfield Tavern on Saturday 29th of May.
Joining the Melburnian stage-slayers and ARIA Top 10 entrants are slacker supergroup LOSER, NSW's fast-lovers C.O.F.F.I.N., Total Pace (Violent Soho & DZ Deathrays members), QLD's very own punks Something Something Explosion, plus more sick acts to be announced.
You can get in among the action you craved all through last year for a measly $60 (plus booking fee)
Clowns drummer and Damaged all-rounder Jake Laderman says that it's been way too long between XXXX Golds for the band.
"It's really exciting time because Queensland is always our favourite place to go, not purely because of the weather and the beaches and whatnot, but it's just one of the best places to play in terms of crowd and just people. It's just the best and we're really excited to come back and play again."
Even though he's playing the event, he can't wait to get amongst it himself.
"The line-up is great. A lot of friends in the line-up. I've never seen Total Pace before and that's a band with friends in it I've not yet seen perform before. We're excited to play with LOSER, we've been long-time friends with them and loving their new music. C.O.F.F.I.N. from Sydney are one of my all time favourites, I reckon they released my favourite record last year. So it's going to be really fun. Just got to contain myself and not get too excited. This is the problem with being a headline band … you get too excited and you drink too many XXXX Golds!"
Playing to a packed house at Melbourne's hallowed 170 Russell on the 19th of Feb, Clowns are rediscovering their raw power after so many months away from the roar of a crowd.
"I've got to admit that we were all pretty out of practise for the first couple of jams, but I must say playing that show when we were up there and sort of maybe five minutes into the set, it felt totally natural and it felt like no time had passed at that point. We've got a couple of shows booked now and it's just, yeah it's really exciting to think that we're just fucking back."
Mansfield Rocks is set to be one of the first local shows in an Aussie rock renaissance Jake reckons, saying,
"I have just noticed from shows that I've been to, since things have been back, that people are just amped. People are excited by Australian music and excited to just be around their friends and be able to rock out and have a good time.
"I think that the next year is going to be the year of Australian music. It's going to be the year that we'll see a lot of new bands pop up and it's going to be really exciting. It's just a time for everyone in Australia to reflect on how lucky we are and we're completely blown away by seeing people crammed in a room together again."
Get back into live music the right way at Mansfield Rocks! You'll be glad you did.