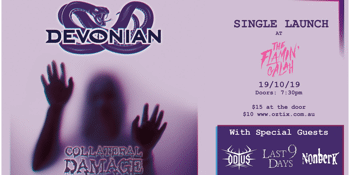 DEVONIAN (Single Launch) plus guests Odius / Last 9 Days / Nonberk
The Flamin' Galah (Brisbane City, QLD)
Saturday, 19 October 2019 7:30 PM
Brisbane metallers DEVONIAN - launch their 2nd single "Collateral Damage" with special guests ODIUS / LAST 9 DAYS / NONBERK.

DEVONIAN is a unique, female-fronted metal band, serving up a blend of complex riffs, tasty choruses, and punchy breakdowns. Utilising years of experience drawn from many genres, Devonian is delivering a sonic journey of metal relying only on their skill as seasoned musicians. Driving this powerhouse of sound is the wonderfully talented Diletta Luna (lead vocals). Drawing on a lifetime of dedication to her art, Diletta energises a crowd with her enigmatic and gifted vocals, cutting lyrics and powerful stage presence.

After opening for Swiss metal legends Eluveitie on their Australian tour in May, DEVONIAN headed straight to the studio and "Collateral Damage" is the first offering from the recording session.

Joining forces with ODIUS - a Brisbane based new age thrash metal band, bringing devastating mind melting riffage to the mosh pit!

LAST 9 DAYS - a five man wrecking crew based in Brisbane.
Formed in late 2014 they quickly hit the local scene with a sharp edged thrash attack and entered the studio to record a six song demo sampler.
Following a stream of shows locally and interstate they turned heads and ventured back into the studio to smash out their 9 song full length album 'In Decline' which showcases a unique mix of diversity and intensity.

NONBERK - are a Brisbane based alternative metal band formed in March 2019. The band like to incorporate "unusual" time signatures in their songs such as 7/8, 5/8 and 23/8, as well as heavy distorted bass and guitar, and hard hitting drums. They're definitely guaranteed to put on an energetic head banging performance wherever they play! With catchy choruses and riffs that you'll be humming while you're at work or cleaning your room. Pulling influences from bands like Kyuss, Sepultura, The Melvins, Helmet, Soundgarden, Pearl Jam, Deftones, Tool and KoRn, their sound is the mixture of 90's grunge bands with 80's and 90's Metal. They have just started to hit the Brisbane music scene and will keep throwing punches until everyone knows their name.