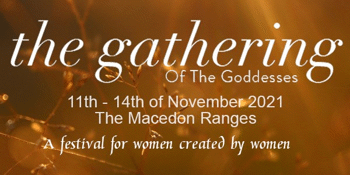 The Gathering of the Goddesses
Camping, Glamping, Dorms Children's Festival, Workshops Teen Empowerment, Psychics
The Macedon Ranges (Riddells Creek, VIC)
Thu 11 - Sun 14 November 2021 8:00 am
https://www.thegatheringofthegoddesses.com.au/

Join us for a three day camping / glamping festival to connect, to ground and to grow. Woman of all ages and from all walks of life coming together with inclusive experiences for all.
Enjoy Workshops, Presentation, Healing, Psychic Readings, Health & Fitness, Drumming, Women's Circles, Chanting, Market & Food Stalls, Arts & Crafts, Buskers & Performances, Children's Village and so much more!
Celebrating the ways of the old by gathering with your kindred spirits and re-joining your tribe. Nestled on 183 acres of natural forest, The Gathering of the Goddesses Festival takes place at the bottom of the Macedon Ranges.
All Workshops, Presentations and Crafts are included in your ticket purchase.
Your ticket purchase is supporting the mental health crisis in Victoria.
Proceeds from the festival go towards improving the mental health of children and adolescence in Victoria. Thank you for being apart of this movement and helping make a difference.

By purchasing a ticket: you agree to be bound by The Gathering of the Goddesses Terms and Conditions. Please Read the Terms and conditions on our website.
All sales are final. No refunds will be available unless the Event is cancelled. This is an all-weather Event.
No refunds will be made if you choose not to attend due to inclement weather. This event will run-in all-weather conditions.