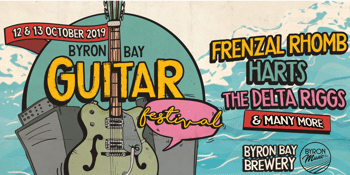 Byron Music Productions Presents
Byron Bay Guitar Festival
with Frenzal Rhomb, Harts, The Delta Riggs + many more
Byron Bay Brewery (Byron Bay, NSW)
Sat 12 - Sun 13 October 2019 1:30 pm
The Byron Bay Guitar Festival (BBGF) is returning on Saturday 12 and Sunday 13 October 2019 at the Byron Bay Brewery for its third year.
Headlining is Aussie punk-rock royalty Frenzal Rhomb, guitar hero protege Harts, and The Delta Riggs.
Byron Bay Brewery will be turned into a guitarists heaven with performances and seminars by Torres Strait's 'Magic Fingers,' Chris Tamwoy, industry legend Peter Northcote, bluesman Claude Hay and Australian guitar icon Nathan Cavaleri who makes his return to the stage on the back of his Demons album tour.
There is something for all music lovers from soul and funk band The Soul Movers, international supergroup - The Sidemen, as well as local favorites Marshall & The Fro, Minnie Marks and many more! Sunday will kick off with Bunny Racket for the little rockers and scheduled is a long list of family activities, hosted by Murray Cook (The Soul Movers/The Wiggles)
Produced by Byron Music, the event features 25+ live performances on two stages, as well as a Guitar Market showcasing some amazing instruments and craftsmanship from the world's favourite manufacturers and Australia's finest luthiers. There will be workshops and seminars presented by artists and manufacturers on both days.
The Byron Bay Guitar Festival has been successful in bringing to the local community an accessible event embraced by artist and audience alike. In the past the festival has presented acts including the late great Phil Emmanuel, Ash Grunwald, British India, Kevin Borich, Dallas Frasca, Hussy Hicks and has had a strong emphasis in recognising and showcasing emerging talent as Tash Wolf and Taj Farrant.
Byron Bay Guitar Festival is an all ages event, and supports the charity Be Happy Music Club.

Frenzal Rhomb | Harts | The Delta Riggs
Nathan Cavaleri | Chris Tamwoy | The Soul Movers
The Sideman | Marshall & The Fro | Claude Hay | Creek
Stoker | Minnie Marks | The Fergies | Peter Northcote | Majelen
Nicole Brophy | Brave Gulf | Fergo & The Burden | Sarah Koppen
Bart Stenhouse Trio | Soren Carlbergg Quartet | Ben Jansz
Bunny Racket | Special Guest Murray Cook