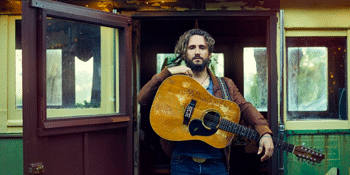 Jarrah Records Present
John Butler Trio
with Stella Donnelly & Special Guests
Brisbane Riverstage (Brisbane, QLD)
Friday, 22 February 2019 5:00 PM
Click HERE to search for ticket availability at Brisbane Riverstage
.
With just a fortnight to go before their first album in four years, HOME hits the stores, John Butler Trio have launched a new single and announced a massive national tour.
They will be joined by upcoming singer songwriter Stella Donnelly, as well as special guests.
With shows across six states and territories at iconic venues like the Sydney Opera House Forecourt, Myer Music Bowl and The Rivestage, the not-to-be-missed events will celebrate the release of the new album with John's fan community as well as showcasing the hits that have made John Butler Trio the highest selling independent artist of all time.
John Butler Trio have expanded to a five piece band for the duration of the Coming Home Tour - hence the name JBT+ - taking the JBT live experience to a new level.
The latest single 'Just Call' drops with a stunning video today, adding more clarity to the puzzle that will be revealed with the 'HOME' album.
"Just Call is an earnest love song I've had for 13 years which I was finally able to finish in these sessions. This is the story of how I found my best friend and partner, out in a small town in the middle of nowhere, in a world of 7 billion people." said John Butler.
The HOME album features the hit single of the same name which turned people's heads for its complex mesh of poignant lyrics, industrial rhythms and a grinding electronic soul, finding it's home on radio across the country. The album is released globally on September 28 and takes listeners through an emotive sonic landscape, mirroring the vulnerabilities, joys and tensions of modern life that have shaped the last four years for John Butler.
"What you're hearing is the destination but getting here felt like an odyssey; some rite of passage that I couldn't go around, couldn't go over, couldn't go under; I had to go through. This album is my most personal work yet and it feels like taking it on the road to connect with fans directly is the final act of delivering this body of work," said John Butler. "This album touches on the anxieties and demons I've been grappling with since the last album, but it's also full of joy, hope and redemption, and I'm looking forward to conveying the stories and passion of all of this journey one on one live with fans."
Overseas fans have already been treated to sneak previews of some of the new songs at live shows in North America including the recent sold out show at Denver's iconic Red Rocks Amphitheatre. The Trio will play one concert at The Caloundra Music Festival on album release weekend, prior to heading off around the world, before returning in January and February to bring this baby HOME.