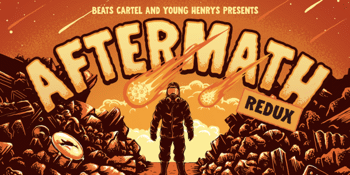 AFTERMATH
Saturday, 23 October 2021 4:00 PM
Beats Cartel presents a post-apocalyptic national display of strength and solidarity in AFTERMATH, a touring heavy event late this year.

With the shackles of the past two years slowly being loosened, there has rarely been a more feverous desire to experience live energy and musical unity; a coming together of many of the country's best up-and-coming heavy acts with national rollout across all states and territories.

AFTERMATH HOBART will feature Astrodeath (NSW), Mountains of Madness, Tarot, The Absoulution Sequence, Supermega and Coward Punch.

From the directors of Dead of Winter and Mojo Burning... we welcome you to the AFTERMATH. Standby for transmission.

With help from Young Henrys and Cult Etiquette PR.