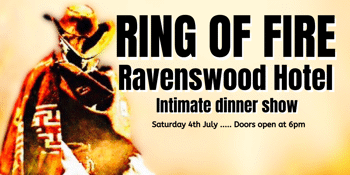 Bleeding Ear Music & Special Events
Ring of Fire
Ravenswood Hotel, Ravenswood (Ravenswood, WA)
Saturday, 4 July 2020 6:00 PM
Join us for an intimate night of fine acoustic music with the RING OF FIRE, performing in a circle in the middle of the room , the audience are seated around the circle and join in for a night of singalong tunes.
This will be a limited numbers , sit down "dinner show" styled concert to suit COVID restrictions.
Unreahearsed and unpredictable the Ring of Fire is always a heap of fun.