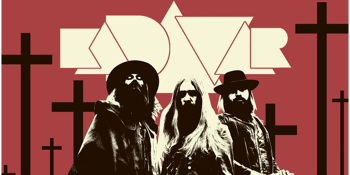 Beats Cartel presents
POSTPONED - Kadavar (GER)
with Soy and Fungas
The Stag & Hunter Hotel (Mayfield, NSW)
Fri 27 March - Thu 1 October 2020 7:00 pm
POSTPONED SHOW STATEMENT
With heavy hearts we are forced to postpone the 2020

KADAVAR

tour of Australia and New Zealand. Borders are shut and with a two week quarantine the band would be unable to get on the road and get amongst it.
Statement from the band:
"Dear Australians and New Zealanders, it's now official that we won't be able to make our tour happen. We want to say sorry to everyone who was waiting to see us play and bought tickets to the shows. We will try to reschedule the dates as soon as possible.
We want to thank Christian and Beats Cartel and all promoters, venues and people involved for setting up the tour and we wish everyone the best for coping with the situation which is ahead of us. Stay tuned and be safe!"
We encourage ticket holders to retain their existing tickets as these dates will be honoured for rescheduled shows. The new dates will be worked through with the band, venues and management over the coming weeks.
- Beats Cartel
The 5th KADAVAR album, »For the dead Travel fast « will be released via Nuclear Blast October 11th