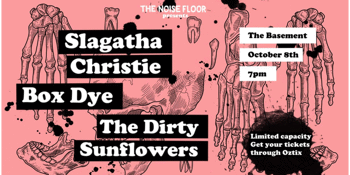 The Noise Floor
Slagatha Christie, Box Dye, The Dirty Sunflowers
The Basement - Canberra (Belconnen, ACT)
Thursday, 8 October 2020 7:00 PM
Thursday October 8 sees Canberra punk heavyweights Slagatha Christie dusting off their gig shoes to play a real live show in a real live venue!
Relative newbies The Dirty Sunflowers and Box Dye have been showing huge promise through the COVID separation, and are absolutely chomping at the bit to join Slagatha Christie for an evening of seated frivolity.
You'll want to be looking sharp, so put on your best trackies, squeeze into your favourite band shirt and come check out a few of our favourite bands, representing what Canberra has to offer!
These shows have been selling out fast, so grab your tickets early to avoid disappointment!