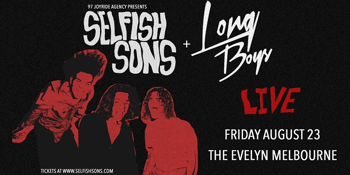 The Evelyn Hotel & 97 Joyride Agency
Selfish Sons X The Long Boys
Velvet Bloom, The Vito Collective
The Evelyn Hotel (Fitzroy, VIC)
Friday, 23 August 2019 8:30 pm
2019 has seen personal bests for emerging alternative rock band Selfish Sons, who will tour across Australia's East Coast in August. After selling out numerous shows across Australia throughout 2018 and 2019, the trio have also played host to a string of festival appearances as well as support for international and national touring acts.

Since the release of their debut EP 'Sixfour' earlier in the year, the band have reached streaming bests, as well as national and community radio rotation that followed the bands sophomore release. The band have also been nominated for Brisbane City Council's QUBE Effect and are currently in the running for the some of the biggest emerging and creative youth awards.


Selfish Sons will perform special one-off shows at cities such as Newcastle, Wollongong, Sydney & Melbourne before concluding with a special homecoming show at The Brightside on Saturday 31 August.

With a new and improved live set to accompany their newest release, Selfish Sons make their return to Australia's east coast shores to perform their biggest shows to date at some of their favourite cities. Commence the good times, this is only the beginning for Brisbane's 'natural born performers.'

All shows on this tour and surrounding have a zero-tolerance to any form of intimidation and harassment. Please leave any bigotry at home.