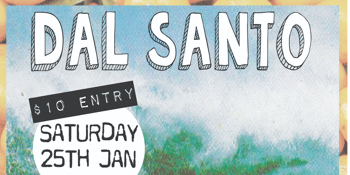 Dal Santo, Catholic Guilt, Odd Tastes & Serf
The Tote - Band Room (Collingwood, VIC)
Saturday, 25 January 2020 8:00 PM
Following a busy period which included an exciting lineup change, Dal Santo return for their first show of the year. Having just announced stick master Sunny Dial as a permanent member of the band, their live shows have gotten more energetic than ever. To add to the excitement, the band entered the studio earlier this month and have been playing new material at their shows. This will be their biggest headline slot to date. They'll be taking on the Tote band room for the first time.

11:30 Dal Santo
10:40 Catholic Guilt
9:50 Odd Tastes
9:00 Serf
8:00 $10 entry

This event is taking place on the lands of the Wurundjeri people of the Kulin nation. We acknowledge leaders past, present, and emerging.