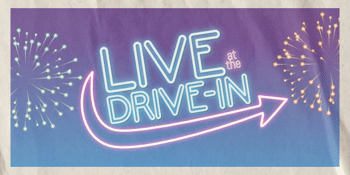 Live At The Drive In and The Wallaby Hotel Presents
Live At The Drive In - Gold Coast
Drive in Concert featuring Tributes to Creedence, Fleetwood Mac, Springsteen and The Eagles
Mudgeeraba Showgrounds (Mudgeeraba, QLD)
Saturday, 4 July 2020 4:30 PM
***IMPORTANT EVENT ENTRY INFORMATION****
Please refer to our Event Entry Conditions prior to entry.
Live at The Drive In is coming to the GOLD COAST for the first time… Saturday 4th July will see some of Australia's most incredible Tribute shows perform live on stage while you and your mates enjoy the live experience from the comfort and safety of your own vehicle… Drive In style.
Experience a phenomenal line up of acts paying homage to four of the biggest American acts to ever tour the planet, and on the 4th of July, at a Drive in… This is the ultimate Tailgating experience. Tributes to The Eagles, Bruce Springsteen, Fleetwood Mac and Creedence Clearwater Revival will have you singing in your car all night long…
That's right, FOUR live Tribute bands in one night.
The good folk at the Wallaby Hotel, in conjunction with the Mudgeeraba Showgrounds and Live At the Drive In are putting this show together to help support local musicians, crew, agencies and the community while giving the audience a memorable night of world class live entertainment… Something that many people have missed for months.
By purchasing this Ticket, you will be
directly
supporting all these Musicians and Event staff that have seen all their income competely dried up over the past 3 months, while helping to keep our vibrant music scene alive and kicking.
Having sold out venues all around the country, Guests will be thrilled to see some of these great Tribute acts again live in the flesh including headliners and one of Australia's all time greatest Tribute acts, Creedence: The John Fogerty Show. They play their incredible live show for the first time in 2020. Paying tribute to the classic and timeless rock music of brilliant songwriter, guitarist and singer, John Fogerty - legendary frontman of Creedence Clearwater Revival. Along with The Ultimate Fleetwood Mac Experience, Glory Days – The Springsteen Experience and The Eagels Band… This will be a night full of hits and classic tunes (too many to mention) you'll never forget.
The Show will be delivered via both live and loud, high quality sound production and an FM Broadcast (we'll let you know the frequency on arrival) so guests can have the best of both worlds.
We can't wait to bring this exclusive event to the Gold Coast for the first time. There are only 250 spots available, so get your Tickets before they sell out.
Head over to www.liveatthedrivein.co for more info.

IS IT ALL AGES?
Yes this is an all ages show. Those aged under 18 years are more than welcome.

WHAT TYPE OF VEHICLES ARE NOT ALLOWED?
Vans, High roof vans, trucks, coach's, minibuses and motorbikes. These vehicles will be refused access to the site.
WHAT TIME SHOULD YOU ARRIVE BEFORE THE SHOW?
Gates open from 4:30pm. First act hits the stage at 5:30pm. Car parks will fill from the front of the stage first (first in best dressed). There will be food and drink available from 4:30pm with plenty of great music to set the atmosphere leading up to the first act.
IS ALCOHOL ALLOWED?
No, there is no alcohol permitted on site in accordance with QLD driving laws, this is a family friendly event and there will be no bars on site. It is not permitted to bring your own alcohol, anybody found to be consuming alcohol will be asked to leave the site.

CAN I BRING FOOD?
Yes you can, however there will be some delicious food options on site. You will have the opportunity to pre purchase your food, or using our app, we will deliver direct to your car.
More details on preordering food will follow.
CAN I BRING MY OUTDOOR CHAIRS?
Outdoor chairs & tables, rugs, mattresses, pillows etc are all permitted.
We require they be placed in front of your vehicle and within your allocated allotment. You can even back up your Ute or car and sit in the back! Good times ;-)
** Please note, some details are subject to change due to ever changing government guidelines and restrictions around safe COVID practices. We will communicate any changes that are applicable to the event.