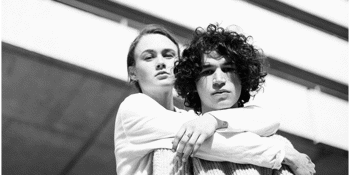 SUMNER
Friday, 24 January 2020 7:00 pm
Nearly a year to the day since Put It Out was released, alternative-electronic duo Sumner are releasing their dreamy, upbeat new single Blame Myself on November 21. It comes as an introduction to a fresh change of pace and energy; and a new wave of songs they have in the pipeline for future releases.
Since capturing the attention of the music world in 2018 with their debut single Pictures and EP All That I Am, Sumner followed up with single Put It Out and have since been locked in the studio; only being allowed out to play a sold-out hometown show, Falls Festival, Junction Arts Festival and supports for Joan As Police Woman and Pnau.
For the first time, Jack and Chloe decided to collaborate with some friends on this release; poaching a vocal sample from fellow Tasmanian artist Chuck Pyecroft's song Here and co-producing the song with Sydney-based artist/producer Commandeur.
Jack and Chloe share some insight into the process, "Blame Myself is a song based on heartbreak and self-reflection. The inspiration behind the track is a relationship breakdown. In the moments when it's all falling apart, it's easy to pass the blame rather than taking a look at your own behaviour and acknowledging it's your fault as well. Chuck's vocal sample triggered the ideas that evolved into the narrative of the track. Its been a rewarding experience collaborating and working alongside friends. To top it off, Peter Mayes from Pnau mixed the track for us which we're so excited about !"
After being introduced to Australian electronic legends Pnau earlier this year, Jack and Chloe quickly forged a relationship and have been working with Nick Littlemore & Peter Mayes in the studio on tracks for release in 2020. "Their guidance and wisdom has helped provide alternative views on what we are capable of creating and inspired us to spend so much time writing new material"
2020 is set to be a big year for Sumner with more music on the horizon and plenty more shows. Jack and Chloe speak about the future, "Our craving to deliver a more intense level of energy in our music and live shows builds in unison. We never want to become stagnant and comfortable, it's essential to create music that pushes outside of your routine writing techniques and sonic comfort zones. Our creative process is becoming more experimental, allowing for a wider variety of styles; always trying to break the mould of what is expected of us."

Catch Sumner as they hit the stage at Altar for the first time. Supports TBA.