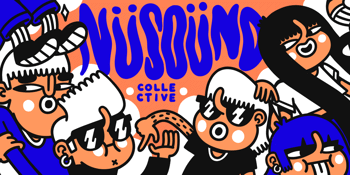 Nü Soünd Collective
feat. Keef, Blat, Tomi Bahama, Triplett, Ketàna, Ess?Kay x MaDog
Saturday, 27 July 2019 8:00 PM
// WELCOME to our Collective. Nü faces, Nü experiences, Nü Sounds.
We're a house party disguised as a night out, we're here to create vibes.

// OUR PHILOSOPHY:
Quality, talented artists performing with the creative freedom that they should have. It's simple, but so is the love of music.
When you book a band to play, you don't tell them what songs to play. At Nü Soünd events, we do the same. Our talent isn't told what to play; they are told to read the crowd, share their vibe and keep it alive.
At Nü Soünd Collective, we pride ourselves in running events for the sake of presenting musical talent to the people, not for a corporation's bottom line.
We throw kick-ass parties for people whose idea of a good time centers around the music.