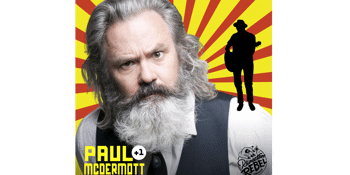 Sunshine Coast Comedy Festival, Funny Coast COmedy & Rhinestone Rebel
Paul McDermott '+1' - new date TBC
Solbar (Maroochydore, QLD)
Thursday, 3 February 2022 6:30 pm
No longer the 23rd July... new date TBC

Paul McDermott has been fighting tyranny, injustice and enuui for 40 years, armed onlywith comedy and a pretty voice. Plus One is the latest brain child of legend of AustralianComedy, Paul McDermott (Doug Anthony All Stars/Good News
Week). It is a suite of"beautiful damnation mixed with the usual standard of malarkey" (Paul's words).
Onstage The Maestro is joined by Glenn Moorhouse, the "plus one", in this brand newspectacle of mellifluous wonder.
Paul says of the show, 'It is more of the same. Overtly - the pretence that I'm grapplingwith universal concepts and ideas in a comedic fashion, but really every thoughtexpressed on stage has passed through the prism of the self until it's just rampant ego, apretty voice and what Dr Google and friends have described as a virulent example ofnarcissistic alexithymia. On a positive note I will am joined on stage by Glenn, andbetween bouts of self-indulgent, but hopefully humorous, misery we sing glorious songs."