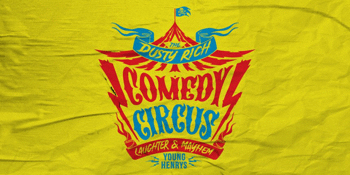 The Dusty Rich Comedy Circus
Miami Marketta, Gold Coast (Miami, QLD)
Saturday, 29 May 2021 7:00 PM
RETURNING TO MIAMI MARKETTA THIS MAY!
Saturday 29th May 7pm!
The Comedy Circus is the brainchild of Dusty Rich; Comedian, Visual Artist extraordinaire and RINGMASTER of the Comedy Circus. With his razor-sharp wit and frenzied energy he will lead an incredible line up of ferociously talented stand-up comedians and variety performers in this incomparable event.
The Comedy Circus was born to entertain and is the most unique live show on the entertainment landscape. Created and inspired by the grandiose edge of the glimmering and gritty Gold Coast, this show is all Goldywood! We couldn't think of a more perfect origin for this beautiful spectacle than the lovely neo-vintage enigma that is the Miami Marketta.
The Circus is Dead! Long live the Comedy Circus...
For more information go to
www.comedycircus.com.au