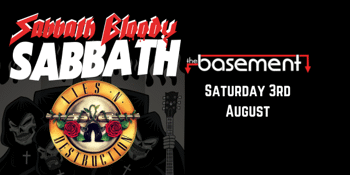 The Basement Canberra presents
Sabbath Bloody Sabbath + Lies N' Destruction
The Basement - Canberra (Belconnen, ACT)
Saturday, 3 August 2019 7:00 PM
The Basement Canberra presents: SABBATH BLOODY SABBATH w/ LIES N' DESTRUCTION

The ultimate tribute night that brings all the magic and mayhem of Black Sabbath and Guns and Roses to life in this massive show that's not to be missed!

From the air raid sirens of 'War Pigs' to the crashing thunder of 'Black Sabbath', the show authentically delivers the hits such as 'Paranoid' and 'Iron Man' as well as Black Sabbath's live favourites like 'Children of the Grave' and 'Into the Void'. Thrown into the mix are some rare gems, coupled with an unparalleled attention to detail and production make this show a MUST SEE event for any Black Sabbath fan.

Australia's Ultimate Guns N' Roses tribute act, brings to life the world's most dangerous Rock N Roll band. Relive the music that defined the late '80s and early '90s, and experience firsthand the decadence and indulgence that shaped generations of obsessive fans.