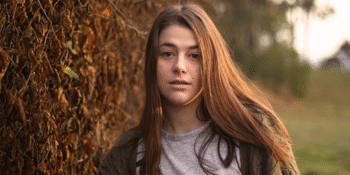 The Milk Factory presents
Brooke Austen 'Ghosts' Single Launch
with special guest Quarter Short
The Milk Factory (South Brisbane, QLD)
Thursday, 22 August 2019 8:00 pm
"Ghosts is about the dangers of not acknowledging the weights that sit on our shoulders. We all have something lurking underneath, that keeps pulling us back down into the depths until we decide to release it."
Come celebrate the release of Brooke Austen's debut single, 'Ghosts'. Compared to artists such as Sara Bareilles and Missy Higgins, Brooke's acoustic blend of indie folk weaves the sound of the city with the feel of a small town. She writes to understand; finding words through music comes much easier than doing so in conversation (or inside her own head, where she ends up most of the time). Hailing from Central Queensland, the now Ipswich based artist has been bounding through the Brisbane music scene for the last couple of years, sharing her songs with anyone who'll listen. 'Ghosts' is available everywhere on 8th August 2019.
Brooke is so excited to be joined by emerging local artist, Quarter Short:
Quarter Short is a Brisbane based alternative-pop artist heavily influenced by the 90s, combining the sounds of Garbage, Jann Arden and The Cardigans with the classic tones of Bette Midler and Tina Arena. Her strong smooth vocals and heart-wrenching songs will tug at your blood pumper and leave you wanting more.