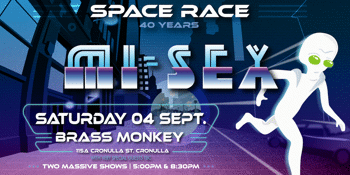 Code One presents ..
Mi Sex - Late Show
with Special Guests
Brass Monkey (Cronulla, NSW)
Saturday, 26 February 2022 8:30 PM
Jive like it's 1985 when Mi-Sex brings its unique blend of rock meets new wave, post-punk discotheque to the Brass Monkey on Saturday the 26th of February 2022.

In memory of our dear spiritual leader and founding member, Don Martin, Mi-Sex returns to the infamous Brass Monkey for the second time this year to celebrate the 40 years of the group's timeless classic LP, Space Race. Well, we may be a year late but who's counting? Man may have set foot on the Moon in 1969, but 1980 was the year that Mi-Sex launched Space Race.

This makes 2020/21 the 40th Anniversary of the earth-shattering LP – Space Race – featuring the hit singles 'People', 'It Only Hurts When I'm Laughing', 'Living In September', and title track, Space Race'.

In a set that includes all the hits from Mi-Sex' debut LP, Graffiti Crimes, Space Race (1980), Shanghaied! (1981) and Where Do They Go? (1983), Mi-Sex promise to consecrate the soundtrack of a generation – 'But You Don't Care', 'Computer Games', 'People', 'Blue Day' and 'Castaway', alongside a few newbies, just for laughs.

MORE ABOUT MI-SEX
After twenty-years in hiatus, Mi-Sex re-emerged in 2010 to perform at the Christchurch Earthquake Relief Concert, with Noiseworks and Electric Hippies' bassist, and producer Steve Balbi out front. Enamoured by the experience, Mi-Sex entered the studio for the first time in 33 years to record a new studio album, Not from Here, which was released in September 2016. One year later, founding member and guitarist Kevin Stanton passed away, then in August last year the legendary Don Martin left the planet for the very last time. Yet the legacy of Mi-Sex lives on.

Altogether reimagined to honour the legacy of the group's extraordinary socio-cultural narrative, Mi-Sex new wave features the founding member and songwriter Murray Burns (keys 'n' synth), Steve Balbi (vocals), James Van Cooper (guitar), Travis New (bass) and Jordan McDonald (drums).