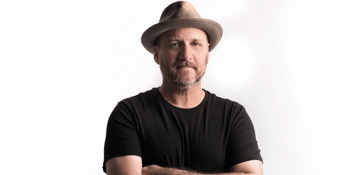 Presented by The Music and Sonic Sherpa
Spiral Stairs
Stones Corner Hotel (Stones Corner, QLD)
Saturday, 20 April 2019 7:30 pm
Spiral Stairs returns to Australia to launch his new album "WE WANNA BE HYP-NO-TIZED" and kicks off the tour with this show at the Stones Corner Hotel on Saturday 20 April (Easter Saturday), supported by an excellent local contingent in The Stress Of Leisure, Eyes Ninety and Electric Zebra!

Spiral Stairs was last in Brisbane in late-2017 off the back of his acclaimed second solo album 'Doris & The Daggers' – slaying a huge crowd at Black Bear Lodge with his crack band and a slew of old Pavement numbers augmenting his rock solid solo fare – and this tour should be even more fun now he's armed with the powerful new tracks from 'We Wanna be Hyp-No-Tized' and promising to throw even more Pavement songs into the mix!

This great line-up happens midway through the Easter long weekend and coincides with the opening of the brand-spanking new band room at the Stones Corner Hotel – promising a whole new tailored experience for both bands and punters – so there's plenty of reasons to get along when this legendary historical figure brings the magic to Stones Corner!

SPIRAL STAIRS WE WANNA BE HYP-NO-TIZED BRISBANE LAUNCH

STONES CORNER HOTEL (NEW BAND ROOM)
>>Easter Saturday <<
- 11.30PM EYES NINETY
- 10PM SPIRAL STAIRS
- 8.50PM THE STRESS OF LEISURE
- 8PM ELECTRIC ZEBRA
(times approximate for guide only)

We Wanna Be Hyp-No-Tized (released in Aust/NZ through Coolin' By Sound this March, available digitally and on vinyl.
WHAT PRESS HAVE BEEN SAYING ABOUT 'WE WANNA BE HYP-NO-TIZED':
"An unexpected masterpiece"
Ghetto Blaster Magazine
"warm, inviting and nostalgic, dappled with old-school rock organ and horns. Scott sounds like he's having fun... and the feeling is infectious."
Brooklyn Vegan
"as strong a collection of fist-tight classic rock as you're likely to hear"
Elsewhere
"Having helped define '90s alt.rock with Pavement, Kannberg here turns felicitous rock classicist."
Uncut