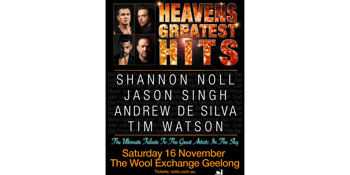 The Voices Supergroup presents
HEAVEN'S GREATEST HITS feat. Shannon Noll, Jason Singh, Andrew De Silva, Tim Watson
Lee Harding performing The Mystify Songbook
The Wool Exchange (Geelong, VIC)
Saturday, 16 November 2019 8:00 PM
Where would we be without music? Music and the artists that made it are our time machines, their songs and stories transport us to moments in time. Heaven's Greatest Hits is a tribute to those incredible artists we've loved and lost. May their legacy live forever.
Jason Singh
The Voices Supergroup presents:
HEAVEN'S GREATEST HITS
The Ultimate Tribute to the Great Artists in the Sky
Inspired by his top 10 album VALE, JASON SINGH is joined by friends
 SHANNON NOLL, ANDREW DE SILVA AND TIM WATSON as they come together for two shows in November to pay homage to the greatest songs of all time by the great artists in the sky:
SATURDAY 16 NOVEMBER - THE WOOL EXCHANGE GEELONG
Drawing their inspiration from a range of artists including Prince, John Lennon, George Michael, Freddy Mercury, Tom Petty, Bon Scott, Marvin Gaye, Joe Cocker, Elvis, David Bowie, Michael Hutchence and many more - HEAVEN'S GREATEST HITS is a musical journey celebrating the hits that have provided a timeless soundtrack to our lives.
"The diversity of passed superstars from pop to rock to R&B showcases how much we have lost in recent years. (Heaven's Greatest Hits) is a gateway for the legends' legacy to continue to live."
Paul Cashmere | Noise 11
With the energy and charisma Shannon, Jason, Andrew and Tim are known for, along with an incredible band of Australia's premier musicians, HEAVEN'S GREATEST HITS is a musical tribute to legendary passed superstars.
This is the ultimate musical tribute.