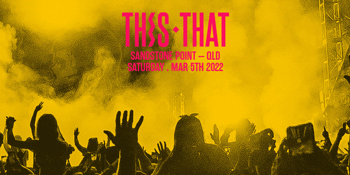 Buses - This That
Sandstone Point Hotel (Sandstone Point, QLD)
Saturday, 5 March 2022 12:30 PM
Please note: THIS THAT new festival date is now.
Sat 30 Oct :: 2021 - THIS THAT Sandstone Point (QLD)
Due to State Government and current standing Federal Government Public Health Orders regarding COVID-19, multi-stage mass music gathering events are not permissible in 'true' festival format just yet.
Coupled with planning timelines, this has made it impossible for us to deliver the well-loved THIS THAT festival format by February - one that would both satisfy current government compliance, and more importantly give you the full THIS THAT experience you've come to love. We understand the inconvenience this has caused everyone involved.
We're currently working with our wonderful line up to lock everyone in for the rescheduled dates, whilst also looking to add more great acts.
In the meantime. stay safe, and have a great New Years
Love TT