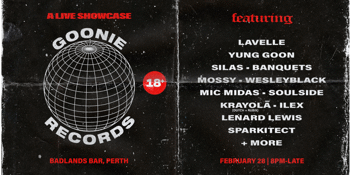 Goonie Records Showcase
ft. Lavelle, yung goon, KRAYOLĀ (DUTCH & RUBIX), ILEX/NG, WesleyBLACK, Soulside, SPARKITECT, Mic Midas, Lenard Lewis, Mossy, banquets, Silas
Friday, 28 February 2020 8:00 pm
The Goonie Records crew are coming together on the 28th of February to bring you the first official Goonie Records Showcase in preparation for a massive 2020.
The team consists of a variety of artists who take on a series of different roles and genres – including the likes of yung goon, Lavelle, KRAYOLĀ (DUTCH & RUBIX), ILEX, WesleyBLACK, Soulside, SPARKITECT, Mic Midas, Lenard Lewis, Mossy, banquets, Silas and more.
Make sure you get down to Badlands Bar to see an array of talent across the Perth music scene and get amongst the massive range of local talented artists on show.