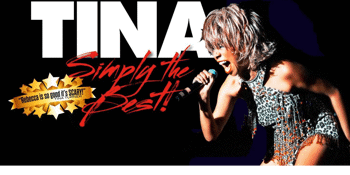 Rebecca OÇonnor is Simply The Best as Tina Turner!
Market City Tavern (Canning Vale, WA)
Friday, 11 October 2019 8:00 PM
This show is perfectly summed up by living legend Mick Fleetwood of Fleetwood Mac when he said "Rebecca is way beyond a tribute act, she is an amazing singer and performer in her own right, I was mesmerised, a night you'll never forget"!

And the words of Tina Turner herself "Rebecca is so good, it's scary! If I had her energy, I would still be touring today."

Be prepared to stand in your seats as Rebecca delivers her flawless rendition of Tina Turner's greatest hits including, 'Nutbush City Limits', 'Proud Mary', 'River Deep', 'Private Dancer', 'When the Heartache Is Over', 'Better Be Good To Me', and of course her anthem, 'Simply the Best'.