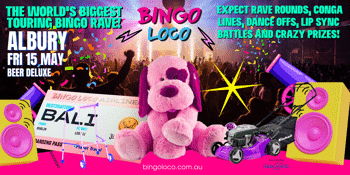 Bingo Loco
Beer DeLuxe - Albury (Albury, NSW)
Friday, 21 May 2021 6:30 PM
ALBURY! Are you MANIACS ready for BINGO LOCO?? You'd better be....because the world's biggest BINGO PARTY is coming to ALBURY!
/ DUBLIN / TEXAS / NEW YORK / VANCOUVER / LONDON / EDINBURGH / DUBAI / SYDNEY / MELBOURNE / ALBURY !!!
**Costume highly encouraged**
Gear up for a night of Bingo complete with bass rumbling RAVE ROUNDS, petrifying Lip-sync battles, dance-offs, confetti cannons and spine chilling special effects, comedian MCs, dancers, crazy theatrics and of course thrilling prizes; shenanigans are mandatory!
Previous prizes include a holiday to Vegas, bathtub, car, 3m teddy bear, bag of rubbish, lawnmower and even a boat!
Friday 21 May 2021
BeerDeLuxe, Albury NSW
Doors open 6:30pm
Party starts 8:00pm

**Tickets sell out quickly**
Bingo Loco partners with Make-A-Wish® Australia with proceeds from the event going towards helping create life-changing wishes for children with critical illnesses.