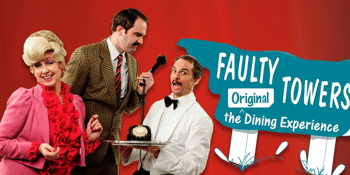 Faulty Towers, The Original Dining Experience
The Ranch Hotel (Eastwood, NSW)
Friday, 23 October 2020 6:30 pm
THIS SHOW HAS BEEN RESCHEDULED FROM 17/04/2020 TO 23/10/2020

Officially the world's longest running and most successful show of its kind, Faulty Towers The Dining Experience is continuing to make its international mark as a 'outrageously funny' night out (BroadwayBaby). Tickets have sold out all over the world from Sydney Opera House to London's West End – and it's coming to North Ryde for the first time ever in April 2020.
Basil, Sybil and Manuel are gearing up to bring a healthy dose of mayhem to your door, serving up a three course meal and nothing short of two full hours of laughter. Anything can happen and it usually does in the show that's 70 per cent improvised. It's a guaranteed original experience every time! Fully immersive, highly interactive and completely original, this is the top-flight, five-star show that is suited to anyone ready for a brilliant night out.
Your ticket includes a three course meal and a 2-hour comedy performance.
Strictly No Photography or Filming is allowed