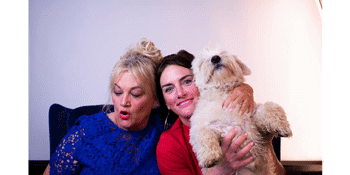 Man V Dog
Paragon Theatre (Queenstown, TAS)
Saturday, 29 January 2022 8:00 pm
Has your dog ever broken up with you by text?
Has a man ever run around the house three times with joy because you've just got home?
Who sheds more, man or dog?
Kiss a stranger? Bite a stranger?
Morning after pill? Or morning after park?
Ball scratching? Ball tampering? Ball licking?
In the pursuit of happiness - what sacrifices have you made?
These women are bold and blue. Inquisitive, explicit and very, very funny.
They trample the boundaries of politeness and fiercely safeguard the obligations of friendship.
They ask the big questions with not an answer in sight.
This story spans 40 years of life and friendship and choices.
This is a show of the most original stand-up comedy. It features songs, stories, dance and many surprises.
Man V Dog
won Best Ensemble Performance at the 'Fringe at the Edge of the World' 2020
Invited to go to the Melbourne International Comedy Festival (prior to COVID closing the festival down).
After sell out shows in Launceston and Hobart, and thankyou to RANT, Gabe and Kerri have decided to do a regional tour.
Featuring Gabe Adkins of Rosehaven, Water Rats and Home and Away.
And Kerri Gay of The Gloaming, winner of Best Actress 2019, Tasmania Theatre Awards and RAW Comedy State Finalist.
*****