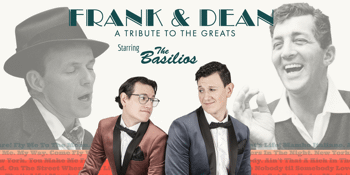 FRANK & DEAN! A Tribute to the Greats!
performed by The Basilios
Lyric's Underground (Maylands, WA)
Thursday, 7 October 2021 7:00 pm
A night filled with classic songs and laughter! Join The Basilios as they pay tribute to two of the worlds greatest crooners, Frank Sinatra & Dean Martin! Carlos and Paul Basilio are brothers who have spent their whole lives singing alongside each other perfecting their voices and giving songs they love The Basilio flair! Just like Frank and Dean, Carlos and Paul bring their natural brotherly banter to the stage to keep you entertained!
So come on down and live a little! As Frank once said, "You gotta love livin', baby, cause dyin' is a pain in the ass."


Band:
Vocals - Carlos & Paul Basilio
Sax - Mike Collinson
Piano - Mark Cunniffe
Bass - Kane Shaw
Drums - Valerio Fiorini