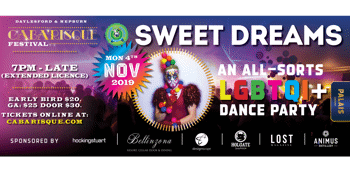 Palais-Hepburn
Sweet Dreams. LGBTQI+ Dance party for all sorts (A Caba'risque festival event)
Palais - Hepburn (Hepburn Springs, VIC)
Monday, 4 November 2019 8:30 PM
Part of our annual, Daylesford-Hepburn Caba'risque festival 2019.
Doors Open 8pm- Late
Caba'risque weekend festival Pass available. $100 + bf

Sweet Dreams are made of this! Join us for a mixed bag of music, dancing and entertainment that has something for everyone's tastes.
Hold your head up, hit the dance floor and get ready to party the night away.

Acts an DJ to be Announced soon .. Don't worry it will be something special....