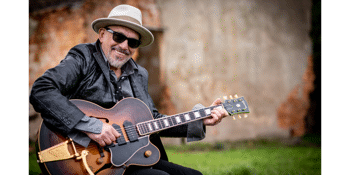 Palais-Hepburn
The Black Sorrows 'Lover I Surrender' Tour
Palais - Hepburn (Hepburn Springs, VIC)
Saturday, 31 October 2020 7:00 PM
🔸Saturday, October 31st. 2020.🔸Doors 7:30pm. 🔸Shows 8:30pm - 10:30pm
🔸Presale: $45+BF. 🔸Dinner and Show: $100+BF Includes guaranteed seating. + 2 course Modern Australian cuisine.

🔸Europe is falling for The Black Sorrows in the wake of Joe Camilleri's 49th album, Citizen John, which debuted at #2 on the AIR Chart and #11 on the ARIA Album Chart in April.
The Black Sorrows' European shows which initially consisted of ten shows in twelve days, from London to Copenhagen, have expanded to another thirteen dates in Germany come September this year. And when they return, Australian fans will have a new opportunity to witness a band at a new peak of performance as The Black Sorrows embark on their Lover I Surrender Tour for late 2019.
"Sometimes you hit a purple patch and you can do no wrong," Joe says of the UK- Scandinavia leg of the tour, which found the Sorrows digging deep into the past as well as claiming new ground. "I know I've gotta do 'Harley & Rose'. I've gotta do 'Chained To The Wheel'. I've gotta do 'Hit & Run' or 'Shape I'm In' - and I do. I do those songs in a really heartfelt kind of way," he says. "But some of the songs on Citizen John are really hitting home in the live environment. 'Wednesday's Child', 'Silvio' and 'Worlds Away' are working really well and the band loves playing them. If the band loves playing them, you feel good about it and that shows."
Another that's found a life of its own on the road is 'Lover I Surrender', the new single from the album. "It's a simple love song, a soul song," says Joe. "Citizen John was a difficult record to make 'cause some of the songs didn't like each other. Most were kinda dark and every now and then you got a sweetheart. This is one of those."
With more than 50 years of road behind him, the next gig is never something Joe takes lightly. From Fremantle to Melbourne to Townsville and dozens of shows in between, on their upcoming tour The Black Sorrows will showcase a live chemistry that's never been more potent.
"It's not very often the band text you to say what fun they had at a gig," Joe says. "Normally it's the opposite. You're stuck together in the van for five hours and it's "get me out of here". We come to play. And that's what I still look forward to. It doesn't matter what happens during the day, it's all about getting up there, doing what you like to do and hopefully people pick up on it and come on the journey with you."