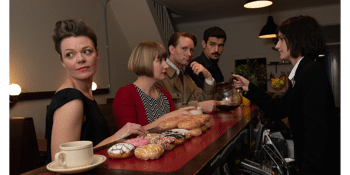 Palais-Hepburn
Beautiful Dark - The Music of Twin Peaks
Palais - Hepburn (Hepburn Springs, VIC)
Saturday, 25 January 2020 7:30 pm
Doors Open 7pm
Beautiful Dark -The Music of Twin Peaks take you on a journey to a town five miles south of the Canadian border, twelve miles west of the state line. Playing the music from Mark Frost and David Lynch's TV series 'Twin Peaks', the band recreate the world of the show with unnerving fidelity: the sights, sounds and tastes of a place where nothing is as it seems.
Beautiful Dark is a musical collective, committed to creating an immersive atmosphere that is at once ethereal and grounded in the world of Twin Peaks. Through faithful interpretations of the music from the television series and the film Twin Peaks: Fire Walk With Me, Beautiful Dark seek to recreate the world created by Mark Frost and David Lynch in a live setting.
Beautiful Dark's expanded show '
Welcome to Twin Peaks
' premiered at the Melbourne Fringe Festival this year. Featuring projections, props, costumes and donuts, 'Welcome to Twin Peaks' captivated large appreciative audiences and also caught the attention of reviewers.
As described by the
Australian Arts Review
:
'There's absolute craft, stunning moments of song and music, but they're always careful to not take themselves too seriously. It makes for an entertaining night, something Dale Cooper would be right to call, "Damn fine".'
https://www.youtube.com/watch?v=fn4FbcmfSog
https://drive.google.com/file/d/11ldAlm24MC4X0gNXvAjRJyxXp8YnZDNW/view