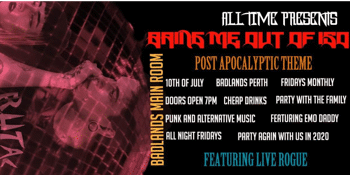 All Time presents
All Time No Money
ft. Rogue (Live), EmoDaddy666, 3CKP & Square One
Friday, 10 July 2020 7:00 PM
Are you ready for isolation to be over?? It feels like it's been so long since I've partied with you ♥

Dress to impress! And by that I mean dress in your best "post apocalypse" get up :)

Don't forget to smudge your eyeliner and comb your fringe like it's 2009. You made it through the apocalypse after all, time to celebrate :)

The boring stuff :

Due to current COVID regulations drinks need to be served while seated and capacity will be limited to only 100 people. Grab a ticket when they are released so you don't miss out!

Tunes you'll be wiping your tears away to:

Motionless In White//In This Moment//Marilyn Manson//Ice Nine Kills//All Time Low//We Came As Romans//Fall Out Boy//Escape The Fate//A Day To Remember//Asking Alexandria//Simple Plan//Green Day//Bring Me The Horizon//Sum 41//Blink 182//All American Rejects//Panic! At The Disco//Parkway Drive//My Chemical Romance//Mayday Parade//Enter Shikari//Linkin Park//Underoath//Silverstein and more.

All Time No Money events are a safe environment for all to enjoy. No matter who you are. Your enjoyment and safety is our number priority.