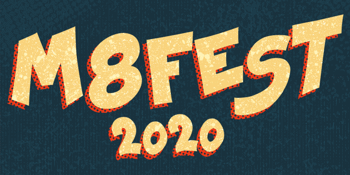 The Sleepyheads & Eight Oh Eight present
CANCELLED - M8FEST 2020
Brisbane Hotel (Hobart, TAS)
Fri 4 - Sat 5 September 2020 8:00 PM
The Sleepyheads & Eight Oh Eight present…
M8FEST 2020.
M8fest is returning for it's third year, this time in Hobart at the Brisbane Hotel on Septemeber 4-5.
We aim to bring our favourite, and some of the most hyped up and coming bands together from all over the country. This year is no exception, with half the lineup being interstaters.
FRIDAY NIGHT:
The Sleepyheads, Introvert, Max Quinn, Linc Le Fevre, Baby Dave, Alex Tyson.
SATURDAY NIGHT:
Bugs, Bec Stevens, Self Talk, Lazer Baby, Art School Bullies, Monique How.
Weekend passes - $35+bf (Entry for both nights at The Brisbane Hotel)
Single night tickets for $20+bf.