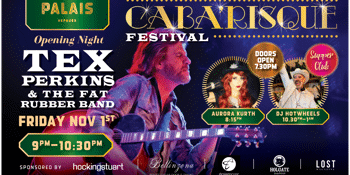 Palais-Hepburn
TEX PERKINS & THE FAT RUBBER BAND (A Caba'risque festival event)
The Fat Rubber Band, Aurora Kurth, DJ HotWheels
Palais - Hepburn (Hepburn Springs, VIC)
Friday, 1 November 2019 7:30 pm
Doors open: 7:30pm - 1am
Presale $40 +bf, Door: $45
Caba'risque Weeked Festival Pass: $100

Tex is joining our Daylesford- Hepburn Caba'risque Festival 2019.
Supported by the cabaret Mistress herself, Miss Aurora Kurth.

Followed by Caba'risque Festival Supper club, DJ Hotwheels.
11pm-1am. So stick around to dance the night away. visit: www.Cabarisque.com for more info.

World Tapas Food available from 6pm. Please call Palais-Hepburn on 03 5438 1000 to make a reservation.

We are so very excited to have the increible Australian icon artist' Tex Perkins' come to the Palais-Hepburn for a one-off show DONT MISS OUT.

It's understandably difficult to pull together a coherent picture of a man whose career has taken in everything from the groundbreaking experimental punktonica of Sydney mid-80s noiseniks Thug to the lilting, dark country of his recent material with the Dark Horses.

From the hard edged pub rock of the Beasts Of Bourbon's, a snarling slice of filthy pub rock to the evocative soundscapes of The Cruel Sea, whose extraordinary 1991 single 'This Is Not The Way Home' placed Perkins' world-weary growl in a new musical context and heralded the emergence of an entirely original yet archetypically Australian sound.
Then there's the Tex, Don & Charlie albums, which saw Perkins joining forces with the legendary Don Walker, Cold Chisel's pianist and master songwriter and son of the Clarence Valley, and Charlie Owen, previously Australia's best kept musical secret.

Now is Tex's exciting new (and long over due) band with Matt Walker (The Fat Rubber Band). It's a blues swamp-groove kinda thing that's a little reminiscent of some of the things in Tex's back catalogue. Many new originals inhabit the setlist, but see them now while they still have to flesh out the set with a few Cruel Sea covers!
"Tex has the swagger, presence and indomitable attitude that comes from years of fronting some of Australia's most intense and spirited rock & roll bands. His take-no-prisoners approach to performance comes with the sensibility of an artist committed to the subtle (and often unsubtle)nuances of his craft. Throw in an astonishing voice full of power and depth, mix it with a dry and sardonic sense of humour and what emerges is the reason there is only one Tex Perkins". Stuart Coupe.