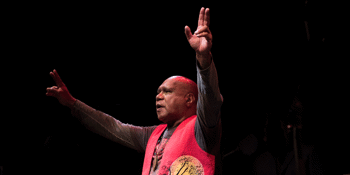 Select Music Presents
Archie Roach
with Special Guests
48 Watt Street (Newcastle, NSW)
Saturday, 27 April 2019 6:00 pm
Doors open at 6pm for Dinner and 7:30pm Show

This is a seated show in the Main Hall.

Australian singer-songwriter Archie Roach emerged in the early '90s. His ARIA-winning debut album, Charcoal Lane, was named one of Rolling Stone Magazine's Top 50 albums of 1992. It centered around Archie's heartbreaking song, "Took the Children Away".
The song was a deeply affecting ballad about his own experience as one of the "Stolen Generations" of First Nations children who were often forcibly removed from their parents and communities and placed in non-indigenous institutions and homes.
The song's impact was immediate. It went on to receive a Human Rights Achievement Award; the first time such an honor had been bestowed upon a songwriter and in 2013 it was added to the National Film and Sound Archive's Sounds of Australia collection.
Archie's career has spanned three decades. His work has been recognised locally and internationally. He has shared the stage with some of the world's most iconic artists, including the late Leonard Cohen, Rodriguez, Bob Dylan, Tracy Chapman, Billy Bragg, Paul Simon, Joan Armatrading, Suzanne Vega and Patti Smith.
Archie will be performing songs from his new 3 CD box set of recent live shows, Into the Bloodstream 2012; Let Love Rule 2016 and Dancing With My Spirit 2018, marking the first time Archie has released recordings of his live concerts.
His music speaks the stories of his people, of this land and of the human condition. His voice - uniquely Australian and undeniably universal - continues to resonate for us all.
Archie has faced his fair share of difficulties over recent years. In early 2010 his longtime partner, collaborator and soul mate Ruby Hunter passed suddenly. He suffered a serious stroke in late 2010 followed by lung cancer surgery in 2012. Despite these challenges Archie continues to draw strength and healing from his music.

Dinner & Show info: Shared feast platters including slow cooked meats, salads and vegetables. Vegetarian option available. (Equivalent to one main meal.)