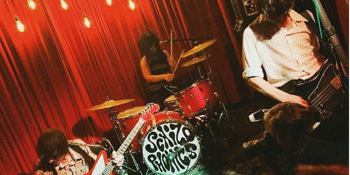 Electric Alchemy presents
The Schizophonics (USA/NZ) - Sydney
with special guests TBA!
Marrickville Bowling Club (Marrickville, NSW)
Friday, 13 March 2020 8:00 pm
Electric Alchemy presents the return of THE SCHIZOPHONICS!!

The Schizophonics blew minds everywhere on their visit to NZ and Australia in May. NZ and Australian audiences had seldom (if at all) witnessed the likes of levitational front man Pat Beers, whose sweaty splits and 720 degree spins (all before completion of the first song) had local audiences gagging. To say nothing of their James Brown-meets-MC5 sonic attack of their hooky garage pop.

The Schizophonics almost brought Auckland's K-Road to a standstill with a guerilla performance you can see here:
https://www.undertheradar.co.nz/news/15976/Caught-Live-The-Schizophonics-Play-Outside-K-Roads-Vixen-Vintage.utr

San Diego's wild trio is now 2/3's Californian (with husband and wife Pat and Lety), and 1/3 kiwi with the addition of Takumi MacIntyre (formerly of the Cavemen) on bass. So impressed with Takumi's style and grace when they met him in May, Pat and Lety offered him the gig before even seeing him play a note! Takumi just completed a 30+ date tour of the USA with the band.

Their new album is called People in The Sky and this tour will see them hit the Pacific Rim with 30+ NZ, Australian and Japanese dates...