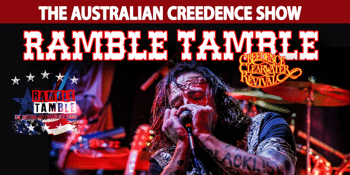 Presented by Live at Your Local & Gizakiss
Ramble Tamble - The Australian Creedence Show
Village Green Hotel (Mulgrave, VIC)
Saturday, 29 June 2019 6:30 pm
DINNER AND SHOW DOORS from 6:30PM
SHOW ONLY DOORS from 8:30PM
SHOW STARTS from 9:00PM

Certified Gold, the ultimate tribute, dinner & show experience featuring
the music of CCR is here.
Start your trip down 'Memory Lane' and be prepared to be up on your feet as the classic play list of songs from Creedence Clearwater Revival is born again in the body and soul of Melbourne five-piece band, Ramble Tamble – The Australian Creedence Show.

Their attention to detail is outstanding and their passion for this music is
inescapable. Ramble Tamble are as close as you will ever get to seeing
and hearing the real thing, live on stage. The authenticity of the
performance and musical production has left audience members in awe
with it being said that if you closed your eyes, you could be listening to
the original band.

As the old saying goes; seeing is believing, so why not see for yourself,
with the promise that once you have, as CCR fan, you will keep coming back, to satisfy that never ending thirst for a long, tall glass of CCR live, that Steve Rainsforth and Ramble Tamble – The Australian Creedence Show can deliver.