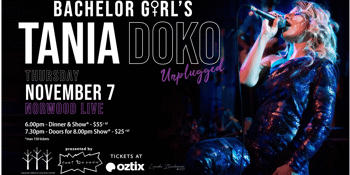 Bachelor Girl's Tania Doko Unplugged
Norwood Hotel (Norwood, SA)
Thursday, 7 November 2019 7:30 pm
Best known for her success in Australian ARIA award winning pop duo, Bachelor Girl,

Tania Doko is returning to Adelaide for one night only to perform an intimate show full of music and stories from her career thus far.

Showcasing songs from her Bachelor Girl beginnings through to her most recent single 'Piece Of Me', written and released in participation of 2019s 'Eurovision-Australia Decides', Tania will take you on a memorable and nostalgic journey.

Supported by an ensemble of Adelaide musicians from "That 90s Show", who were previously accompanied by Tania for their 2018 show, celebrating the 20th anniversary of Bachelor Girls' debut album "Waiting For The Day".

Make sure to get your tickets early, as this intimate Dinner & Show performance has limited seating.