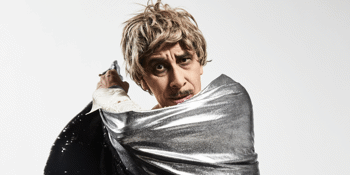 Press Play presents
KID CONGO & THE NEAR DEATH EXPERIENCE
with Primo!
John Curtin Hotel (Carlton, VIC)
Wednesday, 13 November 2019 8:00 PM
Legendary guitarist for Nick Cave & the Bad Seeds, The Cramps & The Gun Club, KID CONGO POWERS is back in Australia for a surprise visit.

With his appearance at Memo Music Hall and River Rocks Rehab already sold out, Kid has decided to sneak in one last show.

Following three recent successful Australian Tours in the past 4 years with the Pink Monkey Birds , Kid leaves his trusty cohorts behind to team up with supergroup Harry Howard & the NDE (featuring Harry Howard, Edwina Preston, Clare Moore and Dave Graney) to become KID CONGO & THE NEAR DEATH EXPERIENCE in what promises to be a night not to be missed.

Expect Gun Club & Cramps classics + lots of Pink Monkey Bird goodness.