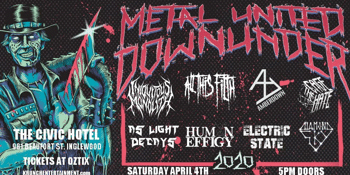 Krunch Entertainment, Metal-Roos & The Rockpit present
POSTPONED - Metal United Down Under 2020
Featuring 8 Heavy Acts
Civic Hotel (Inglewood, WA)
Sat 4 - Fri 10 April 2020 5:00 pm
A stellar lineup of 8 heavy local acts have been hand picked by the Krunch Entertainment team for this year's Metal United Down Under event in Perth to be held at The Civic Hotel on Saturday April 4th. Featuring Death Metal titans Iniquitous Monolith and industrial metal act All This Filth leading the charge along with Heavy rockers Amberdown, groove metallers Cage The Hate, metal maniacs As Light Decays, Modern heavy hitters Human Effigy, Grunge outfit Electric State and classic heavy metal heroes Diamond Sky opening the night, the diverse lineup will give punters plenty to check out and see why the heavy music scene in Perth is world class.

All pre-sale buyers receive an A4 event poster at the venue door. Doors open at 5pm.

6 years of Metal United Down Under (MUDU) already! 6 States were involved last year and over 600 bands have played MUDU across the country since 2014.

This year at the 7th instalment, we want to make more noise than ever nationwide and want the fans shouting Happy MUDU Day on the 4th of April 2020! With bands and fans celebrating their day for what metal is: hanging out with their metal brothers and sisters for a good time with great music.